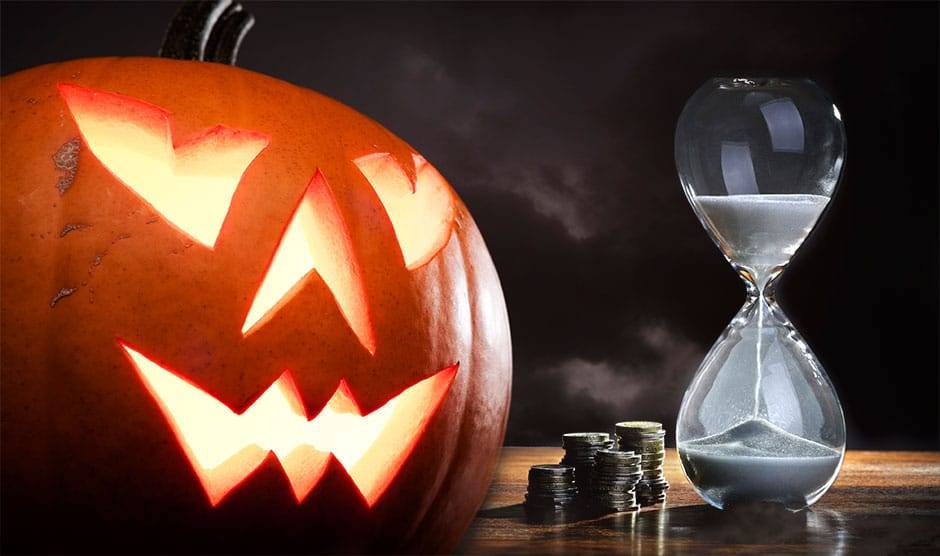 In the days leading up to Halloween the stores, the ads, and the culture all embrace the idea of 'death as entertainment'. Nothing could be less entertaining than leaving your family in both an emotional state of loss as well as a financial state of want if something happens to you. The cost of the end of life can be scarier than any Halloween feature film, but they don't need to be a mystery or haunt your family after you have gone.
While the loss of a loved one is never easy, we need not let the details and expenses shock us like a skeleton popping out of a coat closet at a Halloween party
Your own eventual and hopefully graceful exit from this life is something you must consider at some point in time. What most people don't think about is the extent of the issues that their loved ones will need to deal with after they are gone. It is important that you plan ahead as far as possible to both maximize the benefits you provide your family, and to make providing for them as easy as possible. As with all financial plans, the sooner you begin the easier and more effective your plan can be.
Although planning can make dealing with the details easier, do not overlook the fact that the hour in which the end comes is rarely planned nor easily foreseen.
Planning is everything
Once the running of a household shifts to a surviving partner, the income, expenses, and therefore the overall budget will also adjust. That shift and its impact upon the family will depend on your forethought, planning, and the financial vehicles you put in place to deal with this change in your life. While the loss of a loved one is never easy, we need not let the details and expenses shock us like a skeleton popping out of a coat closet at a Halloween party.
The end of life can take many paths.
You might live your final days at home with family and the help of health care staff on site or you might need further help of doctors and nurses in a facility staffed for your care. In addition to health care expenses, the end of life and your plan for it also has natural expenses attached to it. The preparation of the deceased, the funeral arrangements, and a final resting place each have associated costs. Those costs have escalated in recent years. It is important that the cost of those final plans be included in the total coverage of life insurance to reduce the possibility that family members would have to find a way to pay those expenses as well as grieve over the loss of a loved one.
Managing your debts
Debts are one thing that most people plan to reduce by the time they reach the years in which they retire. By that time it would be nice to own your house free of a mortgage and to have reduced the number of consumer-type debts to a minimum. It is, however, unlikely in modern society that you would have no debts outstanding at the time of your death. Estimating insurance coverage should include retiring some level of debt.
Managing your assets
Also, in our working years it may be common for families to own and operate more than one car, but once a spouse or partner passes, the need and expense of running and fixing two vehicles may become unnecessary. Additional upkeep, insurance, and supplies like gasoline are expenses that can be reduced since they are no longer being consumed.
Cars are only one example of how the expenses of a partnership like a marriage will be reduced when one member is no longer using those things. Take some time to review with your partner how your expenses could change in your later years and are likely to change for the surviving partner.
Setting your budget
You can begin this process with a budget based on your current activities and lifestyle. A detailed review of your current expenses can greatly simplify the process of determining a future budget both into retirement as well as the change in the needs of a surviving partner.
The details of a budget will help you calculate a target income that you'll need to plan for the income loss of a partner. In such an untimely loss, the surviving partner will likely need to replace all or part of their lost mate's income. Details of income and expenses in a current budget will help a financial planning professional plan an insurance mix to meet your specific needs.
One or both partners may receive benefits from a Registered Retirement Savings Plan (RRSP) or other pension at the time of a partner's death. You'll want to consider all sources of income you are likely to have including RRSP benefits, any company pensions, as well as any savings and investments. Knowing what money you have will allow you to both consider how much life insurance you will need as well as plan what level of insurance you can afford to pay for.
More affordable than you might think
A family that works hard to save and invest for the future might also struggle with premiums paid for life insurance. End of life expenses will certainly come though, and being without any insurance to cover the expenses will make things much more difficult to pay for than the premiums would be over the years.
There's no need to be spooked by planning. We can point out the possibilities and help you custom tailor a plan.
Term insurance can be very affordable and can protect you from untimely loss through lean years into the future where you can afford more coverage with better benefits. Also, a family that is better prepared financially and may have RRSP benefits, company pensions, investments, and cash savings can likely limit life insurance coverage. Income from varied sources allows you to limit life insurance to cover end of life expenses lowering the cost of premiums.
Robert Ng-A-Fook can lay out a plan for both your coverage and budget and can help you adjust your plan as future needs change. Remember also that costs escalating in previous years may continue to escalate over the years in which you are preparing. Starting early and working with the guidance of your experienced financial professional will help you plan a future for those you love in the most effective manner possible.
There's no need to be spooked by planning. We can point out the possibilities and help you custom tailor a plan. It's almost like seeing that odd cousin hiding behind the door at the Halloween party in the reflection of a mirror. There's just nothing to be afraid of if you make the time to plan ahead!